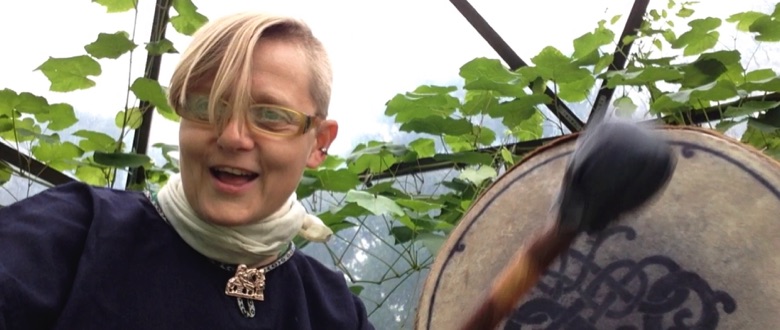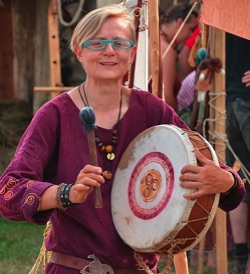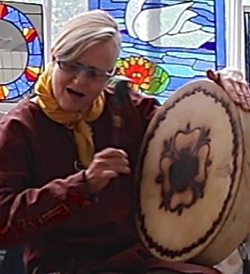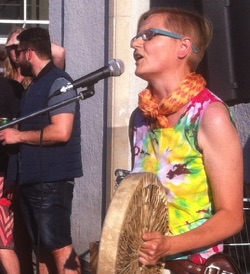 Music and Lyrics with inspiration from Viking Age, Scald Art, Womens History, "Toward the Light", LGBTQ and the Transistion Movement. The lyrics often tells about human destiny and can be spiritual, dramatic or political. Songs are mostly written in Danish.
I am self-taught singer, songwriter, composer, instrument builder and multi artist. Primary instuments are shaman drum, various percussion, mouthbow, one-sting-diddley bow and flute.
I appreciate the simple, honest and attentive. Music can express what is difficult to say in other ways. Music opens the door to the heart and touches the soul. Community singing creates community.
The Women and the Shaman Drum is an ancient tradition – a calling. I was drawn to my music universe in 2010-2012 and has since composed more than 40 songs primary for voice with shaman drum.
Student 2017 at Frame Drum Academy with Marla Leigh Goldstein, California.
Herbal Festival Frame Drum Workshop
Saturday 19. August. Hyllebjergvej 71, DK-9640 Farsø. Time, see later.
Introduktion to framedrum played by hand. I/ we will sing some of my songs about green transition and spirituality, sending healing to the world. Bring your drum and/or voice. You are welcome...
Storytelling by singing with shaman drum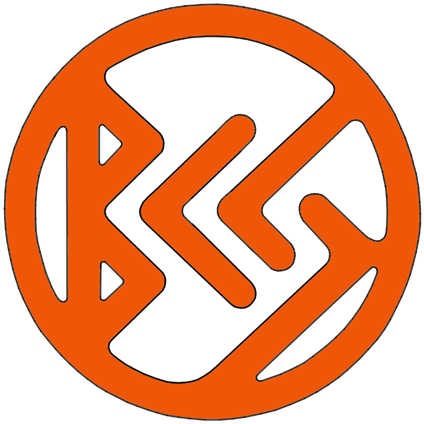 Wolin Vikings and Slavs Fesival, Poland 2013
Demo aganinst "Cash Benefit Ceiling", Aalborg 2016
Nordlys over St. Brøndum, Mythological Vikingevent 2014